MID-YEAR UPDATE

2023 SonicWall Cyber Threat Report
Record-breaking rise in cryptojacking. Encrypted threats and IoT malware attacks on track for worst year ever.
The mid-year update to the 2023 SonicWall Cyber Threat Report is our analysis of changes in the threat landscape that could endanger your organization. Here are some highlights from the report:
332 million cryptojacking attacks were recorded in the first half of 2023 globally — a record-breaking 399% increase over last year.

Nearly 6 million encrypted threat attacks globally, a 22% rise overall. LATAM saw an eye-popping 2,851% increase in attacks over last year.

More than 77 million IoT malware attacks, representing a 37% rise globally year-to-date, with sharp increases seen in Asia (170%) and LATAM (164%).

A decrease in overall ransomware attacks hides upticks in some industries and an increase in targeted and high-profile cyber threats.
SonicWall delivers real-time cyber threat intelligence to our partners, customers and the global cyber intelligence community. Our twice-yearly threat reports are cited by leading news organizations globally used by companies and government agencies to strategize and plan their cybersecurity.
Know the threats and build a strategy to keep your organization and assets safe. Download our report today.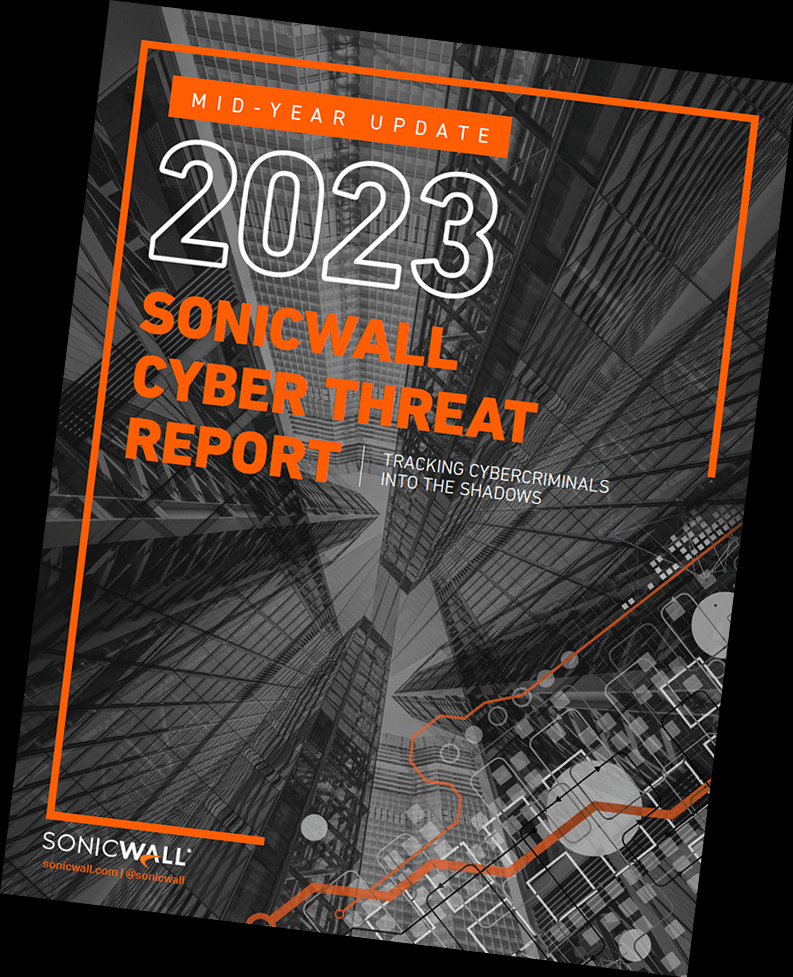 Key Global Findings
Malware – Our findings show that malware is not ready to leave us alone. In 2023, the volume of attacks through June (2.7 billion) is statistically identical to 2022 and slightly higher than 2021 year-to-date — suggesting that malware is here to stay and is likely to keep up the pressure on all sectors.

Ransomware – Ransomware global volume fell 41% year-to-date. However, attackers are focusing on four sectors, namely government, education, healthcare and finance. The overall drop may also be due to temporary effects of outside factors, such as law enforcement activity, ongoing supply-chain problems and limited availability of infrastructure.

IoT Malware – In the first half of 2023, IoT malware volume rose 37% globally to nearly 78 million attacks, putting this year on track to beat all previous years since SonicWall began tracking these threats. Regions with the sharpest increases in IoT malware attacks were LATAM (+164%), Asia (+170%), and Africa-Middle East (+73%).

Cryptojacking – With cryptocurrency values appreciating, global cryptojacking volume blasted past all previous records with 332.3 million at 2023's halfway point – more than the total number of attacks during the last three full years combined. The regions hit hardest are the ones with the most network infrastructure, namely North America (+345%) and Europe (+788%).

Encrypted Threats – While encrypted threat attacks increased 22% globally, it's the huge increases in Asia (287%), Europe (119%) and LATAM (2,851%) that drove this spike. Encrypted threat volume mid-year is higher than at the same point in any of the previous four years. If the trend continues, this cyber threat category will emerge as one of the most dangerous to organizations around the globe.